eBay is an excellent marketplace for sellers and corporations selling products to a global audience.
This article spills the secrets of a good product title and the best eBay title builder, i.e., Fire Title Builder. 
Many sellers create a product page identical to yours every day, but with better titles, lower prices, better descriptions, and other improvements.
Product titles are essential as search engines utilize them to determine where your product should appear on a user's search results page. It is vital to optimizing your product titles to get the most out of your eBay listings. 
Why Is Optimizing Your Title Important?
Sellers need to stay ahead of the competition by constantly enhancing their businesses.
One way of doing this is optimizing your listing titles to boost your online traffic.
The practice of optimizing your online store for search query rankings is known as title optimization.
This entails coming up with a catchy headline for your eBay or other marketplace listings. 
The more optimized a listing is, the more likely it is to rank high and dominate the market. It is critical to reach out to more customers and thereby increase sales.
Optimizing your title will increase your eBay traffic and visibility, thereby boosting your sales. This is where a dropshipping tool like eBay Title Builder comes into the picture.
What Is eBay Fire Title Builder?
The Fire Title Builder tool is primarily focused on improving the dropshippers' market reach via the efficient use of keywords and SEO strategies.
It offers numerous features for optimizing your eBay page and providing instant results.
You can find trending keywords listed according to the user's search results.
This tool produces optimized keywords which will help you to rank at the top of eBay result pages. 
It's a simple yet effective tool for all eBay users.
Moreover, the Fire Title Builder is entirely free and doesn't include any hidden costs.
Being crafted by the sellers themselves, It is tailored to the needs of the ordinary eBay seller.
The tool increases traffic to your website and makes it easier for visitors to find what they're looking for.
Its advanced search tool restricts keyword creation to those that are unique to your product, rather than just the category.
This helps you to create more specific titles that suit your product perfectly.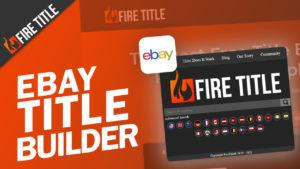 How Does eBay Title Builder Work?
The eBay Title builder creates a list of keywords from recent searches.
All you have to do is check the official website of Fire Title Builder, where you would find the options to search for keywords.
Type your product name to look for keywords on the homepage.
Following that, you'll see a list of the most liked to least liked titles.
There will be 1 or 10 keywords depending upon the product you browsed for.
Keep in mind to choose an SEO-friendly word from these keywords to create a suitable title.
Even though the tool would help you with keywords, you would have to turn them into meaningful and optimized titles.
This is where you would have to use your creativity to create engaging titles. 
Features of eBay Title Builder
Here are a few features of the Fire Title Builder that make it a prime choice for all eBay sellers.
Hot And New Keyword Ideas
The competition on eBay is constantly growing and becoming more complex.
eBay Title Builder helps you stay on top of your listing game.
You may generate as many keywords for free using Fire Title.
It offers the most recent and trending keywords in your market segment, allowing you an edge over others.
Keyword Score And Competition Levels 
The keywords score and competitiveness level function allows you to examine the keyword's difficulty so that you can select the ideal title for your eBay product listings.
These features guarantee users that the titles are optimized most efficiently. 
22 eBay Marketplaces 
eBay Tile Builder can be used in over 20 different eBay marketplaces.
This feature allows you to tailor your searches regardless of where you are dropshipping from.
Advantages of eBay Title Builder
You would reap the following benefits with the Fire Title Builder.
Saves Time
Instead of wasting time conducting your research to develop relevant keywords, you can simply use eBay Title Builder to do the job for you.
It makes building a title a lot easier as the website has the digital data and research for all sorts of keywords. 
Easy To Use
It is the most user-friendly title generator out there.
All you need to do is follow the instructions on the webpage. Moreover, it takes less than 5 minutes to complete and produce the most optimal results.
Optimization 
This tool analyzes your product to produce the highest-ranking common keywords, giving you a chance to rank at the top of eBay result pages. 
Assists You In Flying Past Your Competitors
A title builder can help you get an edge over your competitors.
The odds that search engines will locate and rank your products at the top increases drastically if you're using the relevant keywords.
Increase Sales
The optimized keywords will almost certainly enhance the exposure of your listings and give them the top spots in search results. This will increase the chances of a buyer clicking on your store, thereby boosting your sales.
Cost-effective 
eBay Title Builder is entirely free, without any hidden costs.
All you have to do is simply copy the title from the clipboard and put it onto your eBay selling page.
Additional Features
It also provides additional features such as complexity assessment for maximum optimization of titles. You can simplify your titles according to your target market.
Final Thoughts
New sellers often face financial crunch during the initial stages of their venture.
In such cases, a free title tool such as eBay Title Builder comes as a big reprieve.
It helps you boost your business with the most optimized titles and that too without any additional investments.
The fire title builder helps you showcase your items to potential buyers, allowing you to make a fortune in your business.