Running an online business can be pretty nerve-racking.
However, with the right strategies, you can eventually make progress and make your products stand out against your competitors.
Proper optimization of your content, including descriptions and titles, can boost your product ranking in search results.
This will help people to reach out to your business easily while searching for it on the internet.
How Can We Improve Our Ranking To Attract More Customers?
Your dropshipping business needs powerful title builder tools to improve SEO rankings and help your products show up at higher search results.
Many free title builders suggest the most relevant ideas related to your business, having popular keywords to increase web visibility exponentially.
How Do Free Title Builders Work?
Title builders are the tools that allow you to integrate the most researched and ranked keyword ideas with your content which helps you shoot up your online presence.
Search engines love perfectly optimized content, and so do the web pages. Search engines rank your site depending upon the optimization level and assign top places to highly optimized content only.
If you have a dropshipping business on eBay or Shopify, free title builders can be beneficial while generating titles and keyword ideas.
You can use title builders by following simple steps.
Choose Your Product
Before you begin the research, start with choosing the product for which you want keyword ideas.
You may select any product from the list without worrying about its niche, demand, or competition.
Do The Research
After selecting the product, it's time to put it on a search bar of a title builder. The tool will give you plenty of hot and most researched keyword ideas about a specific product.
The Last Step
After knowing all the latest and the most trendy keyword ideas in your market niche, you are ready to dominate the competition. Insert the most relevant and searched keywords in your title and content, and you will get an optimized title ready to go live.
Most Commonly Used Free Title Builders
Creating an eye-catching title for your product will not only help you attain high rankings but also increase the clicks that eventually convert to a sale.
If you're looking to skyrocket your dropshipping business with the right SEO optimization, then we suggest the following free title builders that are widely used and appreciated.
Fire Title
Fire title is a free title builder tool that is easy to use because of its simple interface.
You just need to put your product in the search bar to get multiple keyword ideas that may help you optimize titles and descriptions about a specific product.
eBay sellers built Fire Title as they wanted to introduce an easy-to-use software that can optimize their content and boost their sales.
How Does Fire Title Work?
Follow these easy steps to create engaging titles for your listings.
Select the product from your list that you wish to have an optimized title for.

Go to the Fire Title builder

official website.

Enter your product's name in the search bar of the Fire title website.

Get the list of the highly searched keywords and ideas from the buyers.

Now, use the most relevant keywords targeting your product in the title and optimize content accordingly. You will start noticing visible effects with better ranking timely.
Why Should You Choose The Fire Title?
If you want to rank your products despite having fierce competition in the market, keep your eyes on everything- the title being the crucial one.
Free title builders like fire title always prove to be a liability in improving your product readability and rankings.
Here are the three reasons you should choose fire title for optimization:
Free of Cost
What's better for your business other than a free title builder that can help it expand?
Fire title is a free-of-cost and effective tool that doesn't charge you any hidden cost.
Easy To Use
You don't need to undergo any complex process while building an impressive title for your products.
Fire title has a straightforward and easy-to-use interface with no hassle.
Saves Time
Without spending too much time on keyword research and analysis, you can quickly get effective results using fire titles and save a lot of your time.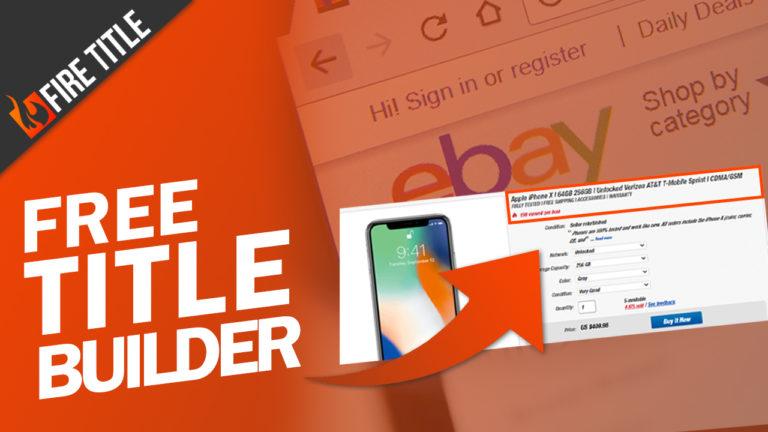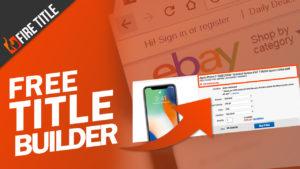 Title Builder
Title Builder is another free title builder that works precisely like Fire Title and gives you effective results. However, there are few exceptions while using title builders.
Based on their nature and search preference, the title builders divide keywords into four separate categories.
Hot

Popular

Searched

Extra
You can choose the right set of keywords for optimizing titles and descriptions according to your requirements.
Problems With Title Builder
Despite having the perks of using a free title builder, you may face some issues while creating a title.
Here are some significant issues that you must know before using the title builder:
Partially Free
If you think title builder is an entirely free-to-use tool, you are mistaken.
Title builder is not entirely free to use However; they offer you a free trial period for ten items only.
There are several features available in a free trial period which include:
Removing duplicate keywords and punctuation marks

Suggestions for hot and new keywords

The score for title and keywords
Once you are done with your free trial period, choose any paid membership plans to continue with the website.
There are two membership plans available.
$0.10 per title: Allows 500 item title

$0.07 per title: Allows unlimited item titles
Bugs You With Frequent Ads
Title builder can be annoying due to ads popping on every click on the website.
Overcrowding of the ads reduces the user-friendly interface of a site and decreases the traffic.
Final Thoughts
It's crucial to have a sound knowledge about what your competitors are doing to outrace you.
Having a dropshipping business like eBay or Shopify demands constant efforts towards making reliable customer experiences.
Free title builders tools like Fire Title can be a lifesaver if you struggle to attain significant rankings in a competitive market and have no time to spend on detailed analysis to optimize content.