Selling on eBay can be your starting point on a journey to be a successful online business, So How To Sell on eBay?
If you've ever been wondering if you could start an online business selling on eBay and make money online keep on reading.
This ultimate guide to How To Sell on eBay will teach you the basics of selling products online using the eBay platform.
You'll get an understanding of how to start selling on eBay and how to create your eBay seller account.
This guide will also teach you how to create your PayPal account and how to upload your first product.
What Is eBay
eBay is one of the most popular online shopping sites for international buyers and sellers.
The eBay platform also lets individuals and businesses sell or buy new or used items all around the world.
Why Choose eBay As Your Selling Platform
There are many advantages to selling your products on eBay.
Here is a list of some of the advantages:
eBay is an easy platform to work with to upload your products immediately for sale.
eBay offers up to 50 free listings for every month, meaning you'll pay fees on your products only when you sell them.
Sellers on eBay are protected by a dedicated team on eBay from crook buyers.
eBay connects you as a seller to more than 170 million buyers around the world.
So you don't have to invest money in advertising your products.
eBay customer support is consist of great people that want to help you in your journey selling items on eBay and become a successful business
Many advantages to sell on eBay, lets understand how to sell on eBay.
What Do You Need To Have To Start To Sell On eBay?
To start selling items on eBay, you'll need a few things like:
A computer or a laptop to work on your eBay store.
A motivation to be successful.
Patience for building your business slowly and steadily.
Products to sell.
If you don't have any products you own that you want to sell you can check out our guide on how to start dropshipping.
You will need all of that to sell on eBay, as you can see its really easy.
Let's dive into how to sell on eBay.
How To Sell on eBay
First of all, you will need an eBay seller account to publish your products onto.
Secondly, you'll need to create a PayPal account which is currently the default payment method on eBay to receive payments for your sold items.
After that, we'll teach you how to link between your accounts, set up your eBay business policies, set up your eBay Seller Hub, and upload your first product to your eBay store.
You will soon know how to sell on eBay, We need to create an eBay account for selling our products.
How To Create An eBay Account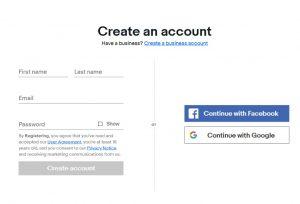 ,
how to sell on eBay?
The first step in building your online business as a seller on eBay is to create a seller account on eBay.
If you don't have an account already go to the eBay website and click on "register" which is usually in the top left corner.
After doing so you'll be transferred to the register page.
Follow the instructions and create your eBay seller account.
Make sure to insert your real information while signing up.
Professional Tips
Don't sell on your newly made account immediately as you open it, wait for a while before uploading your first product.
Purchase some products from other sellers while you are waiting.
This action will grant you feedbacks from other sellers and will increase the reliability of your business.
How To Create Your PayPal Account
The second step you have to take in building your first online business as a seller on eBay is to create an account on PayPal.
If you do not own a PayPal account yet, go to the PayPal website and click on "sign up" which is usually placed in the top right corner.
Clicking on "sign up" will direct you to the PayPal account creation page.
Make sure to sign up with the same information when you signed up for eBay.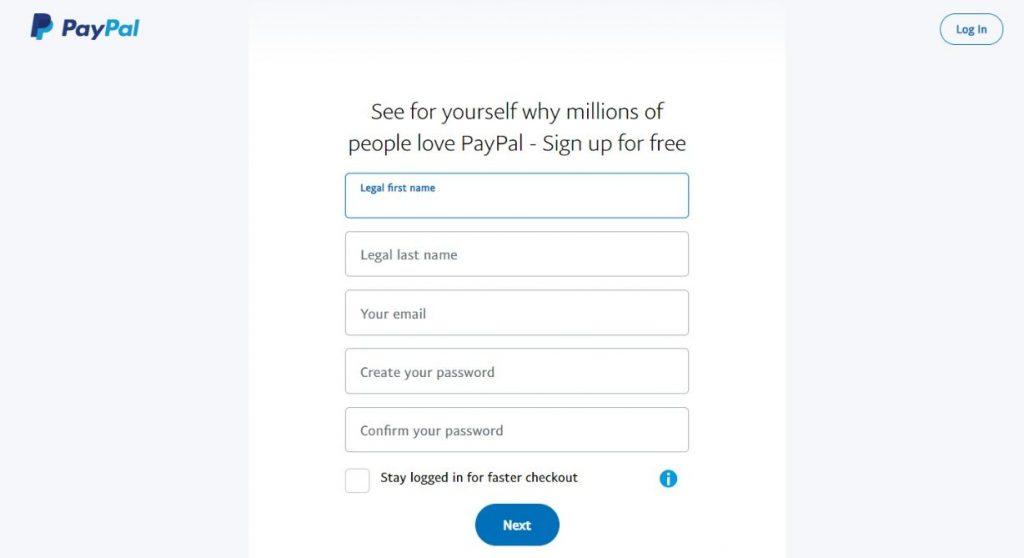 Link Your PayPal Account To Your eBay Account
Before we will understand how to sell on eBay, The next step you should take is linking your PayPal account and eBay account together so you will have the option to get immediately paid on your sales.
Sign in to your eBay seller account and hover your name at the top.
Doing so will open a box with your full name, your feedback score, and a link to your account settings.
Click on "account settings" to change your eBay account settings.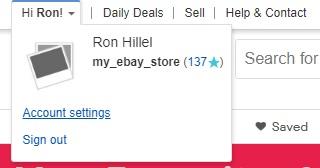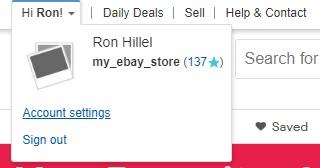 In your account settings, you can view and change your business information, payment options, communication preferences, your PayPal account associated with
your eBay account, and more.
We'll focus on linking your accounts together so click on the "PayPal Account" link.
Follow the instructions on this page and link your PayPal account to your eBay account.
Doing so will ensure you won't have any payment problems when a buyer purchased from you or when eBay will ask for their monthly fees.
As mentioned above, your first 50 listings are free and you'll receive a fee on those 50 listings only when a buyer purchases a product from you.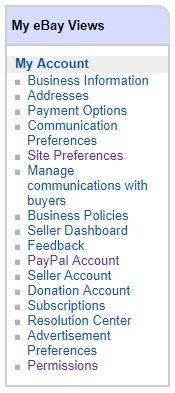 Setting Up Your eBay Business Policies
Before you upload your first product to your eBay store make sure your business policies are acceptable to you.
To view and edit your eBay business policies go to your "Business Policies" page through your account settings page.
There are three types of business policies you must have.
They are payment, shipping, and return.
Payment
In the payment policy, you can define what payment method you would like the buyer to use.
Also, you can make sure that when a buyer buys your product he will need to pay immediately for the product.
Shipping
In the shipping policy, you can block buyers from certain countries from buying your products.
It is good to block certain countries from buying your products because of the high shipping price to those countries.
It is considered a good practice to have a free shipping policy because of lots of buyers today are looking for products with free shipping.
Return
In the return policy, you can set a return policy of fourteen to six days to allow a buyer to return a product.
If you want to demonstrate reliability and professionalism you have to include a return policy in your eBay store. Doing so will give your customers more confidence to buy from you.
Switching To eBay Seller Hub
If you only wish to sell a product you can skip this step.
But if you want to build and grow a successful online business selling on eBay, you'll want to use eBay Seller Hub.
What is the eBay Seller Hub?
This eBay tool is great for sellers because it lets you monitor your store performance, orders, tasks, sales, listings, your seller rate, and your feedbacks all in one page.
The Most Advantages Of Using The eBay Seller Hub Are
Easy tasks management, which includes reminders sellers to ship products, to respond to open cases, and more.
Show sales over time to see your store performance.
Let you track of your monthly limits
To join the eBay Seller Hub go here or type in Google "eBay Seller Hub" and click on the first result. Then you can join by clicking on "Start using Seller Hub".
Upload A New Listing To Your eBay Store And Start Selling
Congratulations, you have come to the final step of how to sell on eBay.
It indicates that you have a desire to succeed in your online business.
If you already have products you would like to sell that is wonderful.
If not you can check out our guide on how to start dropshipping before moving on.
Uploading a product to your eBay store takes place in the "create listing" page.
If you have set up your eBay Seller Hub already you can go to the "create listing" page through the link under the Listings tab.
If not you can navigate there using the "Sell" link on the top header of the eBay page.
Uploading your product to your eBay store is simple, just follow the page and insert the information of your product anywhere.
Professional Tips for how to sell on eBay:
Use all the words you can associate with your product to title it correctly and gain you more sales.
The max length of the product title is 80 characters, try to use all.
Make sure they are grammar correctly – you are selling those products to people, not machines.
Use a professional title builder like our Fire Title tool to build better titles that will get you more sales quickly.
Choose a suitable category to list your product in so buyers won't have a hard time finding your product.
One picture is worth thousands of words.
So upload 12 photos for every product you list, the more the better.
Upload only high-quality photos that are focused on the product you are listing.
Don't forget to fulfill the information of the product in the default item specifics.
This will make sure that when a buyer filters by item-specific your product will show to them.
Add your more item-specific to descript your product.
Make sure to not overdo it.
The item description is not very important but it can get you sometimes sales by allowing the buyer to get more information about the product before he or she buys.
Make sure to price your product correctly to avoid losing money on sales.
If you are dropshipping on eBay you can check our guide on how to avoid losing money when dropshipping on eBay for more information.
If you can give up on a few dollars on every sale you should use eBay promoted listings.
This option allows your product to be advertised by eBay to its customers more often than without using this option.
After fulfilling all the information about your product it's time to publish it.
To do so just click on "List item".
Congratulations, you are a seller on eBay now.
What To Do Next
So, you have created your eBay and PayPal accounts. Also, you have uploaded your first product to your store.
So how to sell on eBay and grow?
How can you grow your online business selling on eBay?
Obviously, you can continue uploading more products to your eBay store.
Be aware though that eBay will suspend suspicious accounts if they grow too fast.
To avoid being suspended make sure that when you begin to sell on the eBay platform you don't upload too many products so quickly.
Increase your eBay selling limits to upload more products to your eBay store.
You can check out our guide on how to increase your eBay selling limits.
Handling your customers' issues should need to be your priority. Excellent customer service can increase the reliability of your online business.
Therefore, make sure to satisfy your customers, whether it's a damaged product, a purchase mistake, or a product that does not match its description.
As you saw its really easy and hope now you understand how to sell on eBay easily.